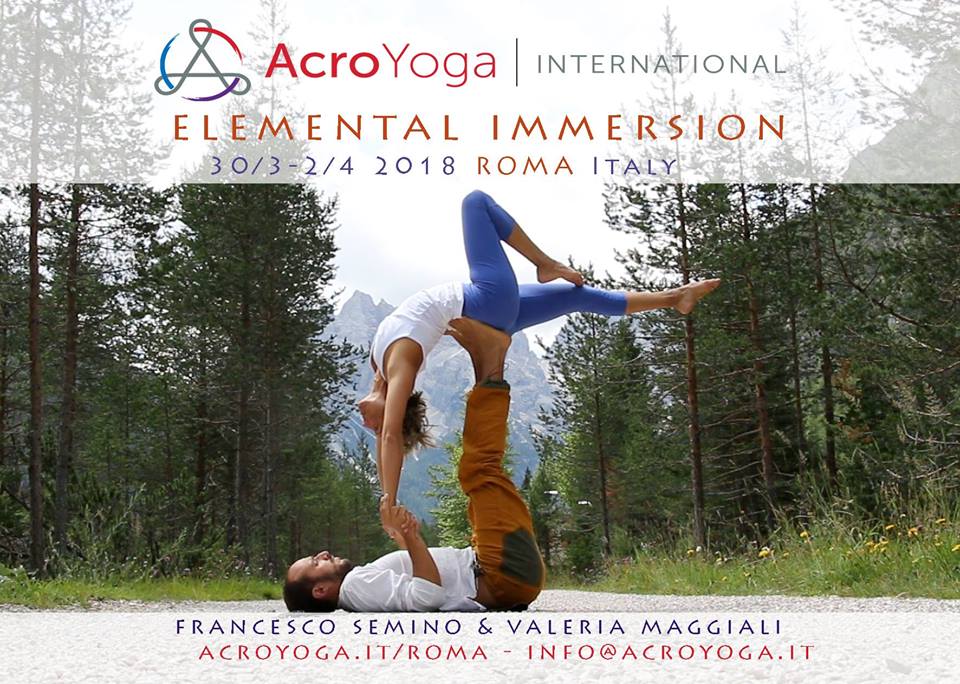 Rome AcroYoga Elemental Immersion w Francesco & Valeria
30 Marzo 2018

-

2 Aprile 2018

|

450€
The Elemental Immersion is the integration of Yoga, Acrobatics and Healing Arts – open for all levels!
Elemental Immerision is a foundational course
registration link –> https://goo.gl/forms/ebzaHe7AoYOHRCPN2
Join Francesco Semino and Valeria Maggiali for four full days of in-depth study in the therapeutic and acrobatic elements of AcroYoga. Emphasizing principles of partnership and communication, students will embody what it means to uplift and be uplifted with the support of community. This program covers the full spectrum of the AcroYoga practice in a safe, supportive atmosphere. The mindfulness of yoga creates a steady foundation from which to explore the power of Acrobatics and the loving kindness of Thai Massage. The interplay of all three disciplines will empower everyone to embody the practice with grace, ease, and joy.
♥ OPEN TO ALL LEVELS AND NO PARTNER NECESSARY
♥ THIS COURSE FULFILLS A PRE REQ FOR THE ACROYOGA TEACHER TRAINING
SKILLS COVERED:
Lunar & Solar Asana
Supine & Prone Thai Massage
Forward & Backward Therapeutic Flying
Spotting & Inversions
Handstand training
Acrobatic Training Techniques & Flying Transitions
SCHEDULE:
9-13 & 14:30-18 daily
To fit your schedule and needs you can also drop in for the first day or the weekend only.
INVESTMENT:
5 days: €550 regular / €450 early bird
Weekend: €220 regular / €200 early bird within 31th January
Only Saturday: €120 regular / €110 early bird within 31th January
REGISTRATION:
https://goo.gl/forms/ebzaHe7AoYOHRCPN2
Your registration will be complete with the full money transfer.
The spots for this immersion are limited! Please register in advance to secure your spot!
REFUND:
Cancellations 14 or more days prior to start of an event will be issued a refund less an administrative fee of €50.
This regards only the price for the immersion.
LOCATION
Jayoga
Via Diana 15 Roma – Italia
ACCOMODATION
The immersion is not residential, but there is the possibility to sleep in the Jayoga Centre that has all the conveniences for only 10€ per night.
MORE INFORMATION
francesco@acroyoga.org